6 Day trip, short description...
Starting is Cusco and ending in Cusco, we pass different ecological levels, exploring mainly the cloud forest on the first day, second, third and fourth day is to explore trails and a small lake,as well as visitting the macaw clay lick in the low land rainforest, serching for wildlife… longer ride on the boat and enjoy hotsprings, big oxbow lakes possibility to spot black caimans and giant otters 
DAY 1.- CUSCO ANDES – CLOUD FOREST – PILCOPATA LODGE
Leaving Cusco early, we will pass through the preinca Tombs of Ninamarca, the colonial town of Paucartambo known as the region's folklore center. The next stop is Acjanacu (3,530m/11,870ft) which is the entrance to the Manu Biosphere, for an overview of the amazon Basin. After that, we'll descend through different ecological floors such as the puna, the elfin forest, down into the lush Cloud Forest, along the way we may see endemic flora and fauna such as, butterflies, giant tree ferns and orchids, monkeys, birds like, toucans, tanagers, etc. The Cloud Forest is home of Peru's National bird which is "the Cock of the Rock" (Rupicola peruviana, we visit its lek) and the spectacled bear (tremarctus ornatus) -the only bear found in South America. We overnight at our comfortable and typical Lodge. (L,D)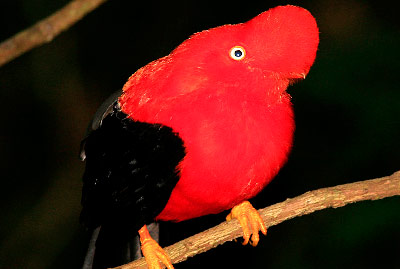 DAY 02. – PILCOPATA LODGE – BOCAMANU TOWN, LODGE
45 Min. ride to Atalaya (500m rainforest) where we will board our canoe that will take us for 6 hours to our Lodge in Boca Manu (280m altitude).
During our journey we can see a variety of birds on the trees as well as caimans and tapirs on the riversides.
In the afternoon we will go on a hike through interesting trails looking for mammals, birds and insects. At night we have chance for a night walk, during which we will hear various sounds of the Amazonian night like the Night Monkey the world's only nocturnal primate, the Kalinowski Rat, numerous species of frogs, Great Potoos and the Pigmy Owl, among many others inhabitants of the night. We spend the night in lodge. (B, L, D)
DAY 03. – BOCA MANU – PRIVATE RESERVE BLANQUILLO OR MWC
We will travel by boat for 3 hours, navigating down stream to the private Reserve of Blanquillo. Where there will be the possibility for a hike before lunch. The afternoon will be dedicated to explore an oxbow lake and surroundings areas. With the help of a Catamaran we will quietly
visit the lake observing the huge diversity that is concentrated within this Ecosystem, such as the black Caiman, white Caiman, a group of Giant Otters and birds associated with the lakes.
On our return to the lodge, we have the opportunity of a night walk, where with luck we will see night birds such as the sand-colored night hawk and also to hear the spectacular sounds. (B, L, D)
DAY 04. – MACAW CLAY LICK – LODGE
Before breakfast, we will go down the river to a floating camouflaged platform positioned to 90m/300ft of distance from the Collpa which is a rich deposit of natural minerals and clay on the wall of the river. From here, we can observe different species of Parrots and also the Macaws giving a colorful show and an impressive uproar.
After breakfast and this unforgettable show, we will continue up the Madre de Dios river to our campsite on the Alto Madre de Dios riverside. (B, L, D)
DAY 05. – LODGE – PILCOPATA TOWN, LODGE
Our boat will takes us to Atalaya port where the bus will be waiting for us. We will travel to our comfortable, welcoming lodge in Pilcopata where we will spend our last night. (B, L, D)
 DAY 06. – PILCOPATA – CUSCO
After breakfast we will start the way back to Cusco, one more walk will finish our activities in the cloud forest, arriving to Cusco at 5pm in the afternoon. (B, L)
End of our services
What do you need to bring for this trip?:
• Daypack 
• Flashlight 
• Binoculars 
• Insect repellent
• One bottle of water for the first day
• Rain gear 
• Sleeping bag (7D & 8D tours)
• Warm jacket
• Long- sleeve cotton shirts
• Hiking shorts
• Headgear
• Swimsuit/sport sandals
• Photocopy of passport
• Sunscreen/sunglasses 
• Hiking boots
• Pocket knife
• Camera and film
Services Included:
. Specialized Bilingual guide
. 4 nights in Lodge.
. Private bus transportation & Motorized boats with cushioned seats, life jackets and roofs
. Entrance fees to Manu National Park
. All meals indicated on the itinerary: B=breakfast, L=lunch, D=dinner (soup, main dish and dessert), Snacks, BL=box lunch. No additional cost for vegetarians.
. Natural mineral water from Cusco
. Basic first-aid kit
. Specialized books are available during the trip.
Fixed Despartures 6 day trip on 2021, if required we can leave at any date with 4 or more persons:
July.-
August.-
September.-
October.-
November
December
Price $
Includes:
Bilingual professional Guide
4 Nights lodge
All the meals
Land private transportation
River private transportation
Fredy W. Dominguez Valdivia…your Amazon guide
(Inhabitant of Manu Amazon, guide at home, University educated in Tourism…and general manager at GreenLand Perú)
This is me, enjoying the Amazon like i used to do it, when living over there.
The main difference today, is that i can live by doing this, and lately (las 20 years) understood the importance of respect for amazon people, nature, and people like you, who wants to preserve this paradise for good of everyone on this planet
Helping the Amazon is a side effect of visitting it, in a responsible way.
f_dominguez_valdivia@hotmail.com 
jungleguide7@gmail.com greenlandperu@hotmail.com 
(+51) 991696898
(+51) 084500281