Manu National Park short description...
This huge 1.5 million-ha park has successive tiers of vegetation rising from 150 to 4,200 m above sea-level. The tropical forest in the lower tiers is home to an unrivalled variety of animal and plant species. Jaguars are often sighted in the park
Manu National Park is unique in 
Peru's National System for Protected Areas (SINANPE)
 as being the only National Park which protects an entire watershed. It also includes a complete sample of Andean-Amazonian landscapes of southeastern Peru and a huge number of species of flora and fauna.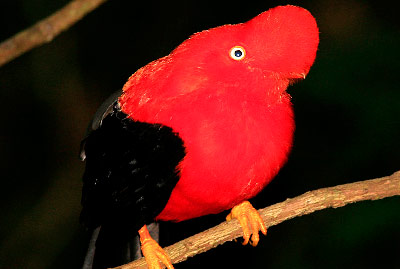 Why was Manú National Park established
Manu's landscape has changed since its pristine early years, and several animal and plant species have become endangered since the rubber boom. In 1967, the Peruvian government signed an agreement with other American countries to establish national parks to promote conservation of regional flora and fauna.
Manu National Park in southeastern Peru protects one of the richest collections of plant and animal life in the Amazon basin, including more than 1,000 species of birds.
The Manu park is part of the Amazon Rainforest Peru. The city of Cusco is the gateway to these forests. Manu national park is divided into three zones — the cultural zone, the reserved zone, and the restricted zone.
The Manu National Park begins at high-altitude grasslands at an elevation of 13,450 feet (4,100 m) and descends through cloud forests and rainforests, eventually leveling out around 1,150 feet (350 m).
The way to get to Manu
To enter by a combination by bus and boat, and leave through the same boat/bus combination. This option can be a long trip.
Fredy W. Dominguez Valdivia…your Amazon guide
(Inhabitant of Manu Amazon, guide at home, University educated in Tourism…and general manager at GreenLand Perú)
This is me, enjoying the Amazon like i used to do it, when living over there.
The main difference today, is that i can live by doing this, and lately (las 20 years) understood the importance of respect for amazon people, nature, and people like you, who wants to preserve this paradise for good of everyone on this planet
Helping the Amazon is a side effect of visitting it, in a responsible way.
(+51) 991696898
(+51) 984353585
(+51) 084500242